gardenshade shed
clay brick, concrete
and laminated glass.
The site for the gardenshade
shed, being wedged against
an existing ficus covered wall,
suggested that the shed serve
the staid purposes of storage..
...with a view. To this end, only
three enclosing walls were built
in brick, with the last in safety
glass, as an extension of the
glass roof for the shed.

The idea was not merely for
sunlight drip into the shed, but
for the shed roof and glass wall
to serve as a gutter of sorts to
irrigate the ficus-grown wall it
found location against: a shed
with a view both in and out
and the means to sustain each
without gardening effort. In
time, fallen leaves replenish
the glass roof with shade, with
only sweeping to adjust the
lumens for activity and mottled
pools of sun on the shed floor.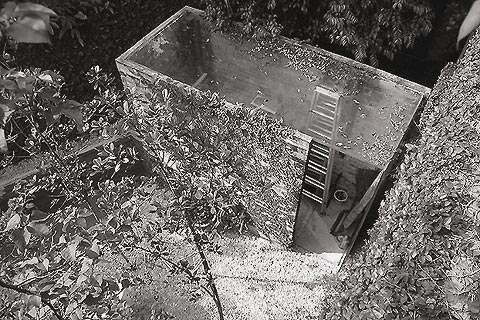 context
bedframe
steel entry mat
gardenshell house
system shelves
slat door
monsoon mailbox
louvrebox house
commentary
gardenwall offices
timberblind door
a/c jacket
middleearth door
lightwell house
posttensioned stair
dining table #3
biography
gardenshade shed
onion valet
britishindia offices
archiebunker chair
folding gate
bathshelf #2
bibliography
safari roof house
timber table
brickwall house
dishrack
autopsy table
folded stair
photography
contact
boardformed pool
ventblock house
steeltable
pittsburgh desk
dogconcrete house
kitchenjockey
wallpantry
bricklite house
poolplinths
gardengate
black and white house
cantilevered gate
mule system workstation
bathvalet
sibu pavilion
scrapwood pool
concretecarpet stair
fire stairfence
loftoffice
perforated bench
radiator railing
pivotgate
boardformed house
steel & white bath
brickroom
forestgrove
barnstorm house
dropbench
gnarly house
Kvadrat chaise
stacked club
mountain pool
greensplice house
threshold house
gainer mailbox