gnarly house
single storey renovation
and extension.
The gnarly house started as a
project to add to the ground
floor area of an existing two
storey bungalow. The clients
were successful in procuring an
adjacent lot to the south of
their existing house and the
brief called for the neigbouring
house to to demolished in order
to make way for living, dining
and kitchen facilities, a study,
powder room and a guest suite.
The design had the cars left
outside of the amalgamate site
boundaries, reclaiming valuable
garden space and modulating
the house addition masses with
garden rooms. Aesthetic
continuity between the old and
the new was helped by a west
facing concrete verandah, and
enclosures of local clay brick
with interior specifications and
finishes bordering the gnarly.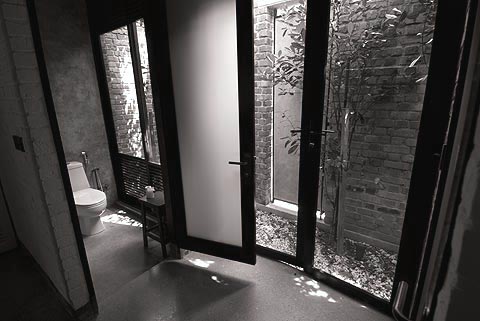 context
bedframe
steel entry mat
gardenshell house
system shelves
slat door
monsoon mailbox
louvrebox house
commentary
gardenwall offices
timberblind door
a/c jacket
middleearth door
lightwell house
posttensioned stair
dining table #3
biography
gardenshade shed
onion valet
britishindia offices
archiebunker chair
folding gate
bathshelf #2
bibliography
safari roof house
timber table
brickwall house
dishrack
autopsy table
folded stair
photography
contact
boardformed pool
ventblock house
steeltable
pittsburgh desk
dogconcrete house
kitchenjockey
wallpantry
bricklite house
poolplinths
gardengate
black and white house
cantilevered gate
mule system workstation
bathvalet
sibu pavilion
scrapwood pool
concretecarpet stair
fire stairfence
loftoffice
perforated bench
radiator railing
pivotgate
boardformed house
steel & white bath
brickroom
forestgrove
barnstorm house
dropbench
gnarly house
Kvadrat chaise
stacked club
mountain pool
greensplice house
threshold house
gainer mailbox